Our Past Dogs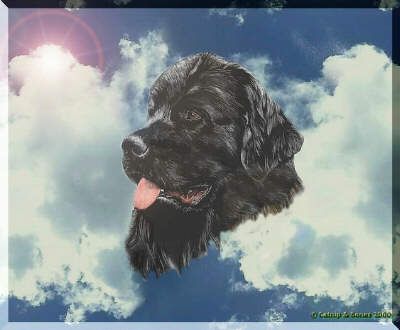 Ch. Planhaven Crystal Belle
(Belle)
Belle was our very first Newfoundland, and she had a very successful career in the show ring on the Tasmanian show circuit, taking out many Groups, Best in Group and Best in Show awards. Unfortunately Belle had an infertility issue and as a result she only produce one pup, Yessallaw Sunny Jim, who was our first Newfoundland bred in our kennel. Sunny went to live his sire and his owners, J&B Taylor. Belle gave a lot of love and affection to our family, and was and. joy to be around.
.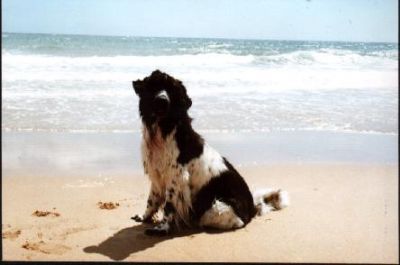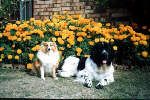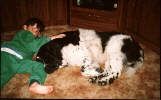 Bouvet Painted Angel
(Angel)
Angel was the most sweet and loving little girl everyone loved being around and she loved to play. Her sweet life was cut short by a bite from a white tail spider while in her kennel one day. After a long battle where we did all we could with our local vet we lost Angel when she was twenty months old. She fought hard and her little spirit never dampened, she still wanted to play but in the end it was too much for her and we had to say goodbye to this bright little spark. Angel is still very much missed.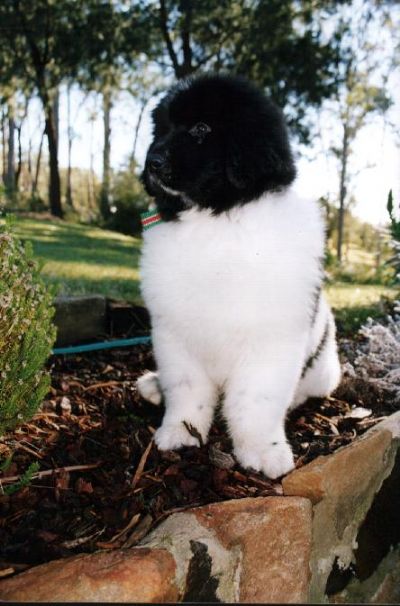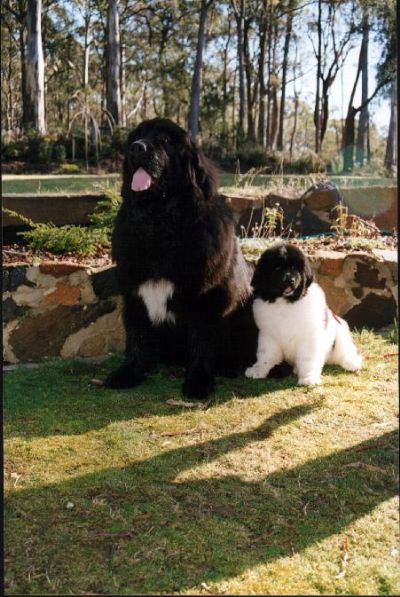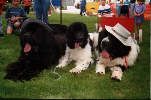 Ch. Bouvet Zabaina
(Zabby)
D.O.B. 8/5/96
Hip 2.2 = 4
Elbow 0
Sadly lost in November of 2007
Zabby came to us as a three year old and it didn't take her long to gain her Australian title. She was a big boned Landseer girl, and fun to be around. She had taken to cart work, which she loved, she could pull carts all day if we had let her. She loved everyone and everything, and she also loved to sing!



Champion Planhaven Thunder Mac
(Mac)
(Canine Good Citizen)
6/8/91 - 29/1/03
Hip 0.12 = 12
Mac was a very successful and well known show dog with many good results including Runner Up Best in Show. He was also our first cart dog a role he performed with passion until he turned 8 years old. He was our first Canine Good Citizen Dog and our first Pet Therapy Dog, which he did until he was 10 years old. Mac was a regular part of the Blessing of the Harvest parade and festival in Longford, another small Tasmanian town where we lived for twenty years. Mac did an television ad for the harvest, as well as having his own newspaper column in Longford's local paper. Mac was a regular sight around Longford, and use to sing quite loudly when we tied him up while we went inside the local shops. He once got lose and followed after Allen into the local supermarket, searching for him down the isles! He also went around schools and gave obedience demonstrations. He loved children, and helped them to approach a dog etc.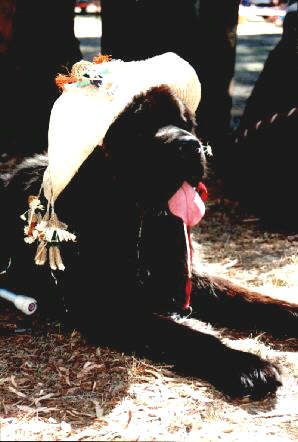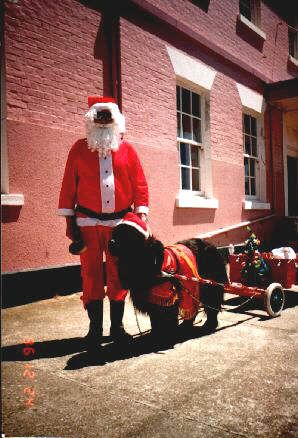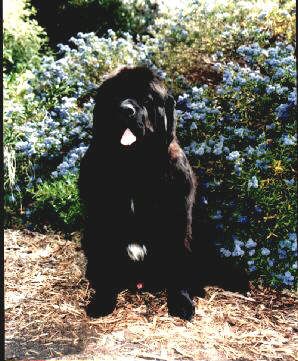 Champion Bouvet Jake
(Scooby)
(Canine Good Citizen)
Date of Birth 5/9/94
Hip 2.4 = 6
Scooby was our big loveable clown. We once watched him try to drink from his water bowl which we had just refilled while holding his favourite, muddy football boot in his mouth. We could see him there, trying to puzzle out how he could get his drink, when he came up with the solution, drop the muddy football boot in the clear water and drink! Our son David called him Scooby Doo after the cartoon character. He had a very successful show career with many Best in Group results as well as classes in show results. Scooby also has a very good cart record and he loved the cart and the children it always attracts. He first worked pulling carts with Mac, and then later with Zabrina when Mac was retired from cart work. Scooby also did Pet therapy and obedience demonstrations. Scooby has puppies sired by him all over Australia and he was a lovely big Landseer boy. We have many people who asked for puppies just like Scooby.
Sadly we lost the big boy on Oct 26 , 2005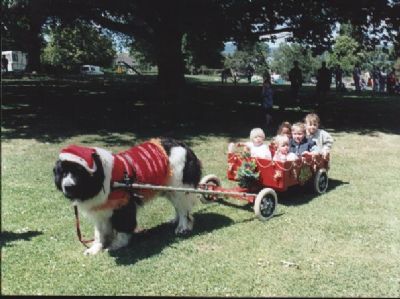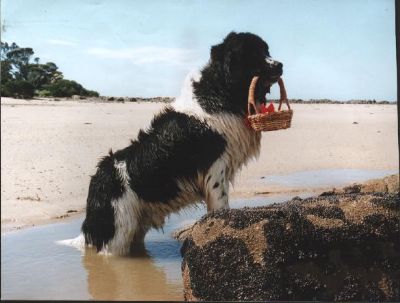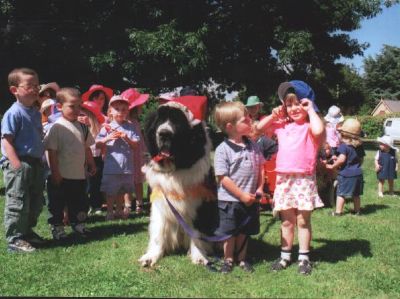 (Emma)
Date of Birth 24/3/92 - 25/11/08
Hip 4 . 5 = 9
Emma
was outstanding in the show ring with many wins in group and show. She was Tasmania's best up and coming bitch in 1993 and top bitch of Tasmania 1994 and 1995.
Emma
was also a very good mother and she loved her puppies.
Em
also decided that all of our kids were also her pups and she mothered them as well. We had 4 litters with a total of 37 pups. The first litter was to our boy
Ch Planhaven Thunder Mac
and that was 12 pups, then she had a litter of 10, twice, and the last one was 5 pups. All these pups were by our boy
Ch Bouvet Jake. Emma
was later desexed, and became the Queen of the kennel, demanding affection and pats every time you went out in the backyard, and if you didn't pay her attention, she would paw you, or flick you hand up with her head and quickly duck under your hand so you had to pat her head! She also loved to swim, and was often a pain to try and get out of the water!
We sadly lost Emma on the 25/11/06 at the age of 16 years and 10 months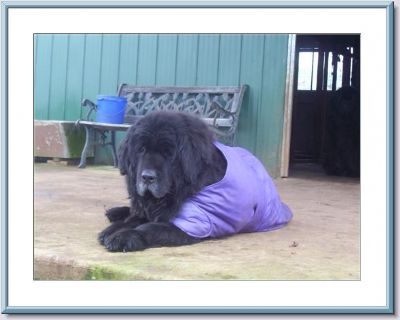 Contact Details
Sue & Clifford Gray
Westbury, TAS, Australia
Phone : 03 63932388
Email :
[email protected]